I spent a great deal of the previous week reading and began to notice a few words and phrases that authors (especially biblical scholars) like to use, and in my opinion, abuse, by either overusing them or misusing them. So here starts a new series perhaps.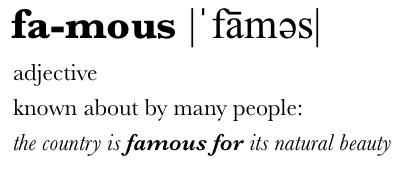 Word(s) to Avoid: Famous(ly)
The truth is that when a scholar talks about "so-and-so's" famous piece on "such-and-such," or famous line about "whatever," the piece/line in question is often only relatively well-known in a small circle of other scholars/students of the subject.
Sometimes the claim can be justified, and admittedly the guilty party really means to say that the piece is only famous within whatever academic discipline. But I would rather use the word famous(ly) more sparingly!
I did a quick search of 4 monographs on Luke-Acts I've been reading and 1 Intro/Survey to the Gospels within google book search. The four monographs include the words famous or famously 1, 5, 7, & 14 times, respectively, and the Intro/Survey a whopping 36 times.
Writer beware: You probably have some pet words or phrases that you're blind to. On that note I think I'll find a friend with whom to swap drafts!
Do you have a pet word/phrase?