(Another Tuesday Time Travel to the Roman Empire…)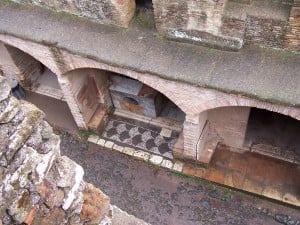 When Paul finally arrived as a prisoner in Rome, Luke records that he was "allowed to stay by himself, with the soldier who was guarding him" (Acts 28:16). The lodging is described as some sort of 'guest-housing' (τὴν ξενίαν in Acts 18:23), the expenses of which Paul was to pay (μισθώματι in Acts 28:30).* Given the circumstances, it is probable that Paul rented a low-income apartment in Rome.
Living in Rome
It is widely recognized that the great majority of residents in Rome lived in apartment buildings. The living spaces which made up these buildings share many traits with the apartments of today:
Various sizes and number of rooms (one or more)
Various amenities (the quality of which decreased with elevation)
Inconvenience of stairs (apartments would typically rise three to five levels)
Nuisance of noise (especially given late night commerce)
Danger of fires
There is good reason to believe that apartments in Rome were as much as four times more expensive than those elsewhere (Rapske, The Book of Acts, 234). As one might expect, the higher your apartment, the lower the price (and quality). What made apartment living particularly unfavorable in Rome was the notoriously poor construction of apartment buildings. In the picture (above) you can see the typical building design: ground floor shops opening to the street with apartments above (taken during my visit to Ostia).
Paul's Roman Imprisonment
Considering the circumstances surrounding Paul's imprisonment, Rapske suggests that "Paul…hired a third storey or higher apartment" (239, cf. Bruce, The Book of Acts, 509). The striking part of the Acts narrative is what takes place in this apartment. With a Roman soldier standing guard, Luke reports Paul as setting up meetings with "leading men of the Jews" (Acts 28:17, 23) and welcoming quite a stream of others during his two year arrest (Acts 28:30). Further, Paul is "preaching the kingdom of God and teaching concerning the Lord Jesus Christ with all boldness, unhindered" (Acts 28:31). I particularly find Rapske's assessment interesting: "Luke closes with a picture of a prisoner whose place of confinement has become a house church" (313). If I might paraphrase Paul's words during what I hold to be another imprisonment: "Though I'm locked up as a criminal, the Gospel is not bound!" (2 Timothy 2:9).
*Some debate whether the two references refer to the same location. Perhaps a discussion for a future post.