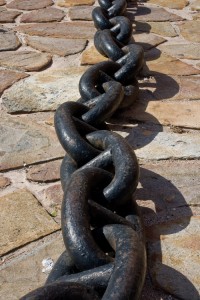 Another Tuesday Time Travel… (This post piggy-backs on the previous one.)
The Apostle Paul was imprisoned on multiple occasions. During his Caesarean and Roman imprisonments, the New Testament suggests he had plenty of time to do… well… whatever he wanted.
Time to kill…
Recall that a prison often served as a holding place for those awaiting trial or sentencing. The court procedures might be delayed for various reasons, including simple inattention, busy court dockets, or court calendar issues. So what might a prisoner do with so much time? Based on a plethora of relevant primary source material, Rapske suggests: "Time could be spent preparing one's case, playing games or reading, writing, and engaging in philosophic or religious pursuits" (313).
Paul in Prison
So what was Paul doing during his imprisonments? Ministry, of course. He wrote letters to believers and churches (Ephesians, Philippians, Colossians, Philemon, 2 Timothy). He enjoyed the mutual encouragement of those who visited him while in prison (cf. Acts 28:30; Eph. 6:21; Col. 4:7, 9, 10-11, 14; 2 Tim. 1:16; 4:11). He was actively sharing the Gospel. In Acts 16:30-32, the Philippian jailor is converted and witness is given to others,  too. Paul also gives Gospel-witness before authorities at trial (multiple times in Acts). Philippians 4:22 implies that Paul was actively evangelizing during his imprisonment in Rome. Prior to this, he asks the Ephesians to pray for his bold witness while imprisoned (Eph. 6:18-20). In addition, prayer and singing were probably frequent activities as seen in Acts 16:25.
The striking part of all this is the risk Paul was taking in continuing to minister the Gospel. Remember why Paul is imprisoned in the first place. One might argue that Paul should lay low and keep quite for the sake of his own release and future ministry. After all, Paul could get himself in more trouble by his conversations and activities. Jailers were expected to be aware of conversations within the prison because such activities could lead to incriminating evidence for the trial (Rapske, 257).
Paul's Priorities
Paul was focused on a mission he believed came straight from Jesus Christ (Acts 26:15-16). Toward the end of his life, even as he anticipates his own execution, he glories in the fact that though alone at trial, the Lord stood by him and the proclamation of the Gospel was accomplished (2 Tim. 4:17). Notice Paul's priorities!
For further information, see: Rapske, Brian. The Book of Acts and Paul in Roman Custody (Grand Rapids: Eerdmans, 1994); also see the work of Craig Wansink (1996) or Richard Cassidy (2001) on the subject.