Giveaway: to win a free clean copy of The Jesus Paradigm, simply interact with this summary in a meaningful (not necessarily lengthy) way. A comment will be chosen at random (in approx. one wk. Sunday Oct. 4, 11:59pm; announcement Monday), and the author of the comment will be contacted via email to receive the book in the mail free of charge, compliments of Energion Publications.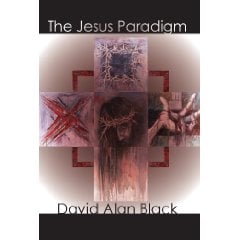 In The Jesus Paradigm, David Alan Black (D.Theol. from U. of Basel and Professor of New Testament and Greek at SEBTS) reflects honestly on New Testament teaching concerning the church—believers and followers of Jesus Christ. The paradigm he suggests should guide the church today is the model given by Jesus Christ. Jesus served and Jesus suffered for the sake of others; so ought those who follow Him.
Unfortunately, the 21st century church in America hardly resembles the NT church as described (and prescribed) in the NT. What's wrong? Black says, "Obedience, not knowledge, is our problem" (63).
Tracing the "Jesus paradigm" throughout the NT, Black suggests that a biblical paradigm for 'doing church' includes:
Servant leadership where pastors are recognized only as equally (though uniquely) gifted believers given for the equipping of differently gifted believers for ministry. (Thus no distinction between 'clergy' and 'laity').
Every-member ministry in which all believers participate in the assembly and minister outside of the assembly.
Simplified church structure (organizationally and physically) in which no church member is 'senior' and no church building is valued more than people.
Apolitical Christianity in which believers pledge allegiance to Christ alone and refuse the adulteration of Christianity with politics, i.e., uphold the separation of church and state.
Evangelistic (missional) mindset through which believers recognize their responsibility to love everyone (including enemies) and serve the needs of others (the foremost of which is the need to hear the Gospel).
Instead, Christianity in America has largely become political, hierarchal, institutionalized, and nominally evangelistic. Black calls for a return to the NT model of church which is, in his view, modeled well (not perfectly) by 16th century Anabaptists.
The arguments in favor of such a model are presented in the book with clarity and are grounded in explicit New Testament texts. Even so, some of the conclusions which are drawn will no doubt call into question some deeply rooted values within Western Christianity. Black warns his readers (at the end of the book!):
That is why it is dangerous for you to read this book. The more we know about the kingdom, the greater our obligation to live for it. We are not called to be Americans. We are not called to be Baptists. We are not called to be Republicans or Democrats. We are called to be foot-washers (p136).
This book is a needed challenge to the status quo "churchianity" in America which is unfortunately failing to reflect the ecclesiastical picture we have in the New Testament.
Discussion
To further the discussion (the purpose of the giveaway), I will raise some questions that Black raises in his book (p100 and elsewhere):
Why do so many of our assemblies divided their leadership into a hierarchy of "senior pastor," "associate pastor," etc. when the New Testament makes no such distinction?
Why do so many of our congregations fail to give members of the church an adequate opportunity to exercise their gifts, including the gift of teaching?
How should Christians engage (or disengage) in political matters as citizens? (my view).
How does national patriotism mesh with the NT emphasis on global missions?